Starting 100 Days To Offload Challenge
Writing has change my life a lot, but putting commitment to consitenly writing is hard to do.
Two days ago I see some blog post in hackernews from Garrit's Notes and as I reading the blog post I see some interesting tag at the bottom and it led me to https://100daystooffload.com/ website.
After reading the guideline of 100 Days To Offload challenge I keep thinking about it and today I decided to take this challenge.
What is 100 Days To Offload?
From the the website we can see to goal is.
The whole point of #100DaysToOffload is to challenge you to publish 100 posts on your personal blog in a year.
It encourage us to Just write I like this idea.
The rule
While #100DaysToOffload has rules but I want to add some additional rules. Here's the rule from #100DaysToOffload:
Write on personal blog
Post between 100days - 360 days
Publish 100 post
No limit what you should write
Once article published add hashtag #100DaysToOffload in social media
Get friends involved
My Additional rules
The challenge should be finished by the end of 2023
At least have one person to take the challenge
No sponsor article
Make sure to have page to list all the post
No AI involvement (even if just fixing the grammar)
At least one post everyday
No requirement for the totals words should be in a post
The goals
The goals of following this challenge is to make sure that I write blog posts not to make money.
To be fun
To Learn
To Inspire
Get better at writing
Ideas
At first I'm afraid what should I write in my blog post, but turns out that it is very easy to get the idea since I want to learn a lot of things.
Just about 30 minutes I came up with 60 blog post ideas.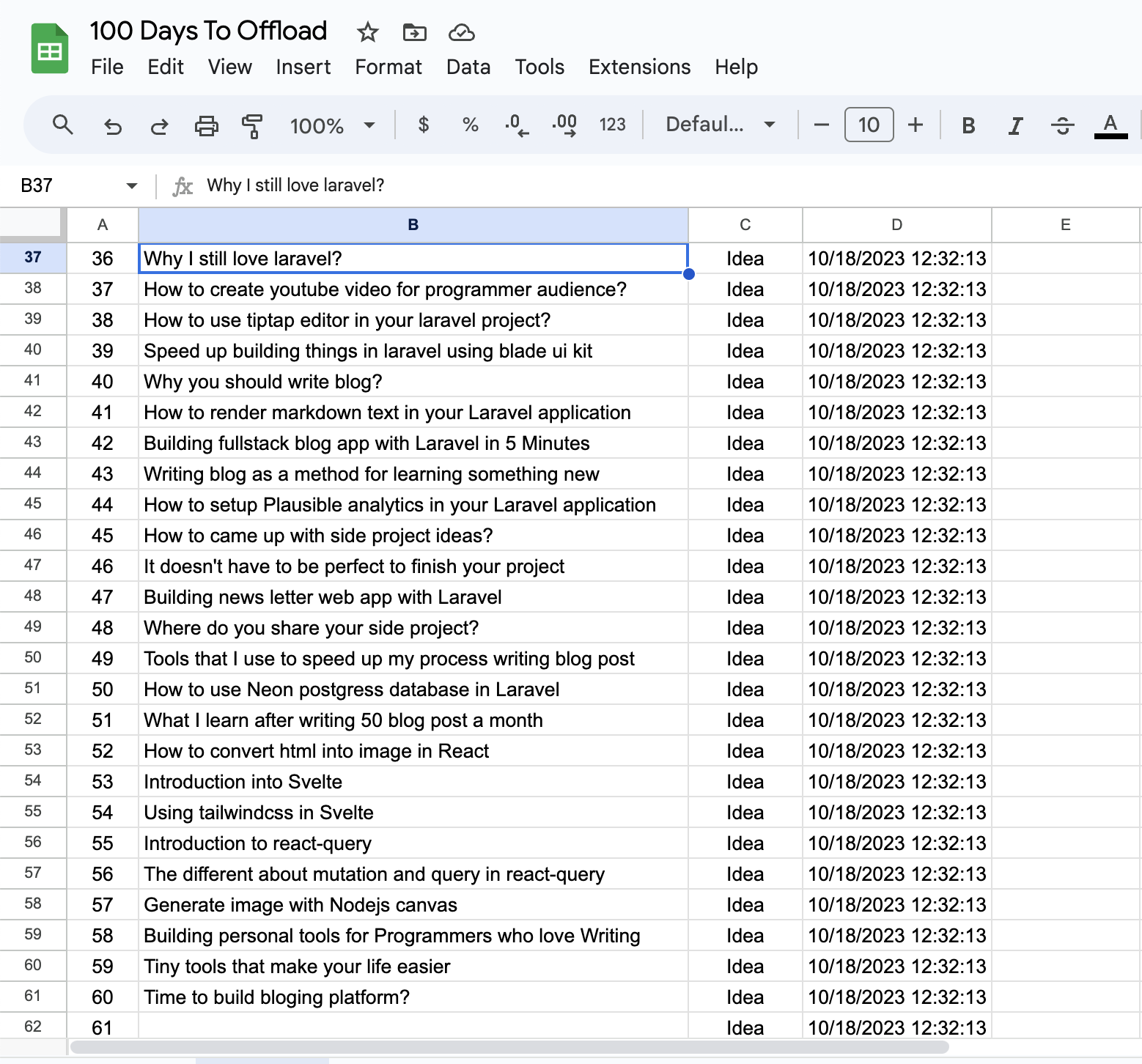 You should follow
To really understand what you have learn you should write, in fact when you writing something, sometime you learn something new from your self.
And if you want to follow all my post on this challenge you can see it #100DaysToOffload page.